We make, teach and sell English language courses for kids.
Our Holiday Camps
---
Jazzitup Kids provides holiday camps to learners of English as a second or alternative language in central London.
We combine our unique performing arts language learning workshops of themed stories together with creative, educational excursions, enabling children to learn, act out and practice new language and stories both inside and outside the classroom, while having great fun!
We collaborate with a local Hotelier in London able to offer our families preferential rates in hotel service appartments near our schools in Marylebone.
Our Courses
---
Jazzitup Kids offers private, bespoke courses to individuals and small groups all year round in central London.
We teach kids from 4-14 English through our performing arts method of 'Active Storytelling' - one story, one theme, one workbook a day followed by an interactive excursion to put learning into live context.
Each story has its language learning objectives, with a focus on public speaking, phonics, pronunciation, new vocabulary and grammar acquisition, encouraging children learn and express themselves through storytelling.

Want to Teach?
Become a Franchise Partner
---
We can provide an extensive an ever-growing curriculum of 70+ themed stories with accompanying course materials and are able to devise new, unique content for your country.
The Jazzitup Kids English language education programme and teacher training are available worldwide for those wanting to offer English language tuition through the performing arts to children, using our original teaching curriculum and method of Active Storytelling and Theatre devised in England.
English Language courses with Jazzitup Kids
Jazzitup Kids teaches English to children from 4 to 14. The curriculum was created by Lale Nicoletti in London, England, in partnership with Chickenshed, the award winning inclusive theatre and education company and charity.
We teach through our method of Active Storytelling, using core creative activities: Acting, Singing, Movement, Workbook Projects within an exclusive, ever growing curriculum. We run courses and active holiday learning camps in London all year round.
After successful pilot projects in Italy and a franchise in Malaysia, Jazzitup Kids English language courses are available to franchise worldwide.
We work with The Syrian Refugee Commission in London, offering places to children who may benefit from our courses.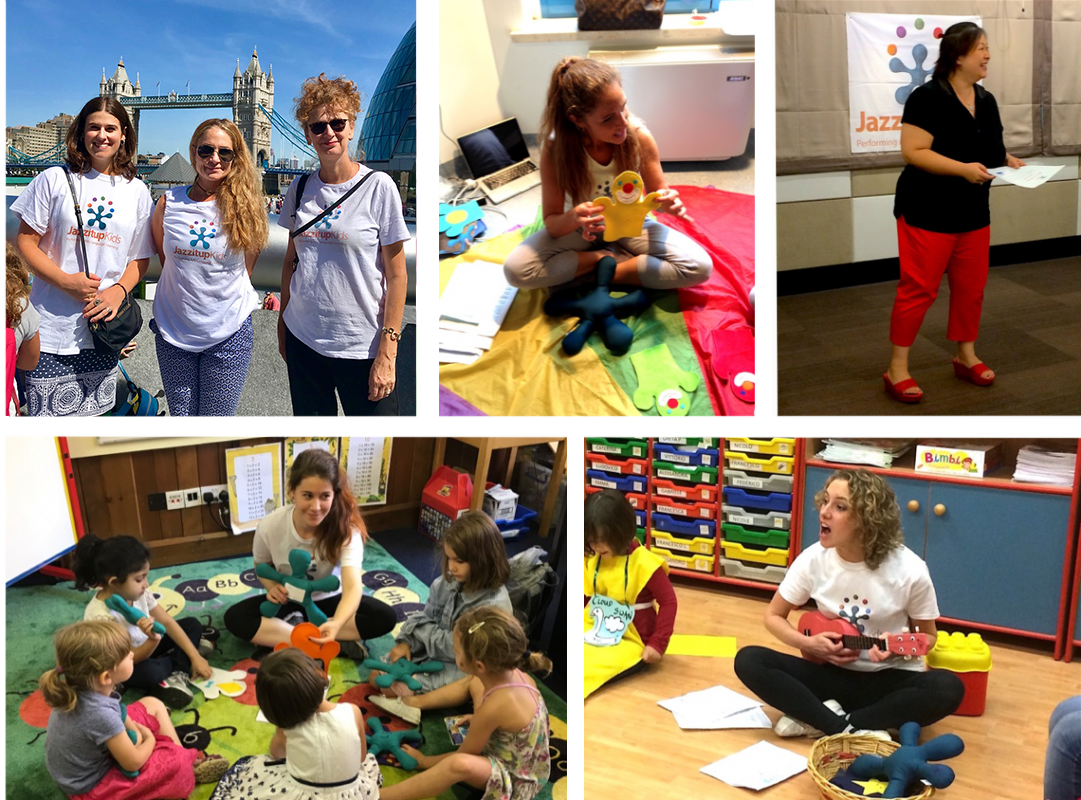 Professional language courses designed in partnership with the Chickenshed Theatre Company, London.
The Jazzitup Kids language learning curriculum, devised in partnership with award winning Chickenshed theatre company in London, is a sequence of stories based on the magical adventures of a character called 'Jazzy the Juggler', who learns English step by step with the children...... and with new stories being written and created each year.....
Each story includes vocabulary and grammar learning objectives, a workbook, storyboard, puppets, song, drama games and activities and art and craft projects.
What parents say about our courses:
"Thank you very much for what has been an experience well beyond expectations! All your team members have been wonderful too! See you next year!"
Panos - parent from Greece - July 2019