We run English language courses in London for kids.
UK Holiday Camps
---
Our aim is to offer children fun, joyful and memorable English language learning workshops through the stories and adventures of Jazzy the Juggler, consolidated by interactive, educational visits to museums, theatres, palaces and much more in London together with project work

Jazzitup Kids offers holidays camps all year round in central London to children from 4 to 14 with English as a second or alternative language. Our groups are divided into groups of 4 to 6 year olds, 7 to 10 year olds and 11 to 14 year olds.
Our Courses
Are all making learning fun.
---
We offer weekly programmes for each of the three age brackets with different stories, themes, settings, characters with one workbook each day. Our unique workbooks, which include 'the story' together with illustrations and story comprehension, are an important element of the course as the children can keep a memorable record of all they have learned and keep practicing.
Our morning workshops are followed by fun, educational afternoon excursions that consolidate and enable the children to actively practice the target language objectives and ideas studied each morning.

Our Teaching Methods
Using trained actors and teachers.
---
Our workshop leaders are all trained actors and teachers. They are simply fantastic. They teach using the method 'Active Storytelling' and the unique stories and adventures of 'Jazzy the Juggler' and all his friends. The children start each morning with a fun phonetics and pronunciation warm up with movement. Our morning workshops cover listening, speaking, reading, writing, grammar, singing and acting, with an emphasis on public speaking, pronunciation, new vocabulary and grammar acquisition.
We teach kids within a no-pressure context where they are able to enjoy learning, sharing and expressing themselves according to their abilities.
Upcoming Holiday Camps:
Hallooween 2017 Monday 23rd - Friday 27th November 2017
Christmas 2017 Monday 18th - Friday 22nd December 2017
Easter 2018 Monday Monday 2nd - Friday 13th April 2018
Summer 2018 Monday 9th July - Friday 24th August 2018
Our holiday camps offer weekly programmes that change each week. The recommended time is anything from 1 to 3 weeks. Our workshops start at 9.30am and finish at either 1pm or 5pm (half or full days). We are able to organize accommodation upon request.
Our holiday camps take place in beautiful schools in central London with easy access to exploring the city for our cultural excursions to museums, palaces, theatres....
Interested in sending your child on a course over the school holidays? Next up, Hallooween.....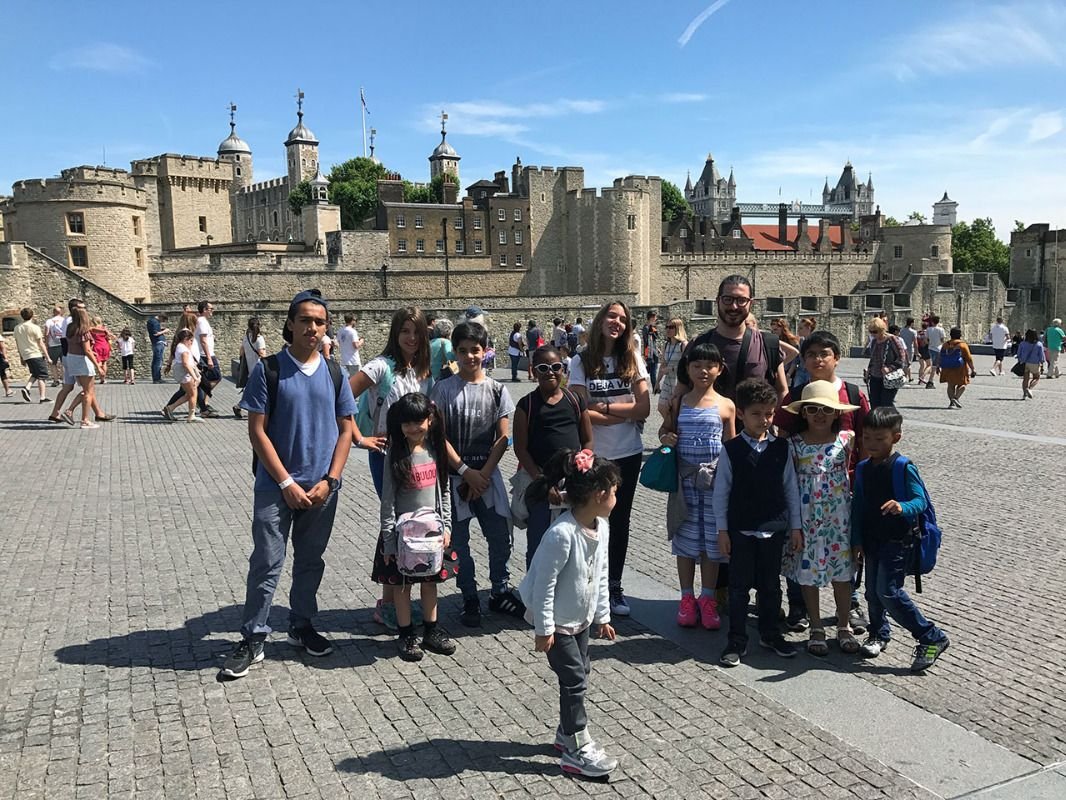 We can create tailor-made day or residential programmes for you.

The Jazzitup Kids English language education programme is available all year round for school groups or bespoke groups of children from 4 to 14 wanting a full immersion experience of English language tuition, culture and history in London. We are able to offer tailor-made day or residential programmes in London all year round using our unique teaching curriculum and method of Active Storytelling and Theatre devised in England. For further information contact us
---
Photos of of 2017 London Language Courses.
---
What parents have said about our 2017 London Summer Camp:
The children had a wonderful time and an unforgettable experience. Thank you and Neema for everything.
Evmorfia - Parent
Thank you for all the pictures! It is so lovely to see what children are up to during the day. We are very excited to start a second a week.
Gabija - Parent
Your programme widened his vision of the world and got him closer to British culture and language to enrich his knowledge and we are very pleased. He likes to listen to stories and telling them and I hope his writing will eventually follow later on. He already likes performing and you are giving him those skills which we appreciate.
Prabaddh - Parent
This is amazing, the kids really enjoyed their learning experience and hopefully we will do it again.
Lulwa Alsane - Parent
The English camp was amazing, the girls still talk about it. We have tried 2 different camps before and none of the girls liked them. I feel that this year the have learn quiet a lot this year because they were happy. I can see the difference. We will definitely come back next year. Also sending pictures and videos helped us understand what was going on. Thank you so much.
Eva - Parent
I like how you have structured the course. Beautiful. I like that the morning lesson has content that links to grammar, stories and that afternoon's tour.
Luciana - Parent